Home

This web site is under construction as of October 2021.
Please keep checking back as we build it
With a career that has seen him reach the top of his profession with the likes of Acker Bilk and his Paramount Jazz Band and Terry Lightfoot and his Jazzmen, Ian is one of the most in-demand jazz trombonists in Europe. This has led to tours, theatres, festivals, jazz clubs in all genres of jazz, for Ian is prolific in all styles. He is a top-notch reader too which has opened many doors for him. You'll find him regularly appearing with The Back To Basie Orchestra, The Pasadena Roof Orchestra, Echoes of Ellington and the various productions of The Jazz Reperatory Company. Session work for The Bryan Ferry Orchestra and various artistes at Abbey Road studios too.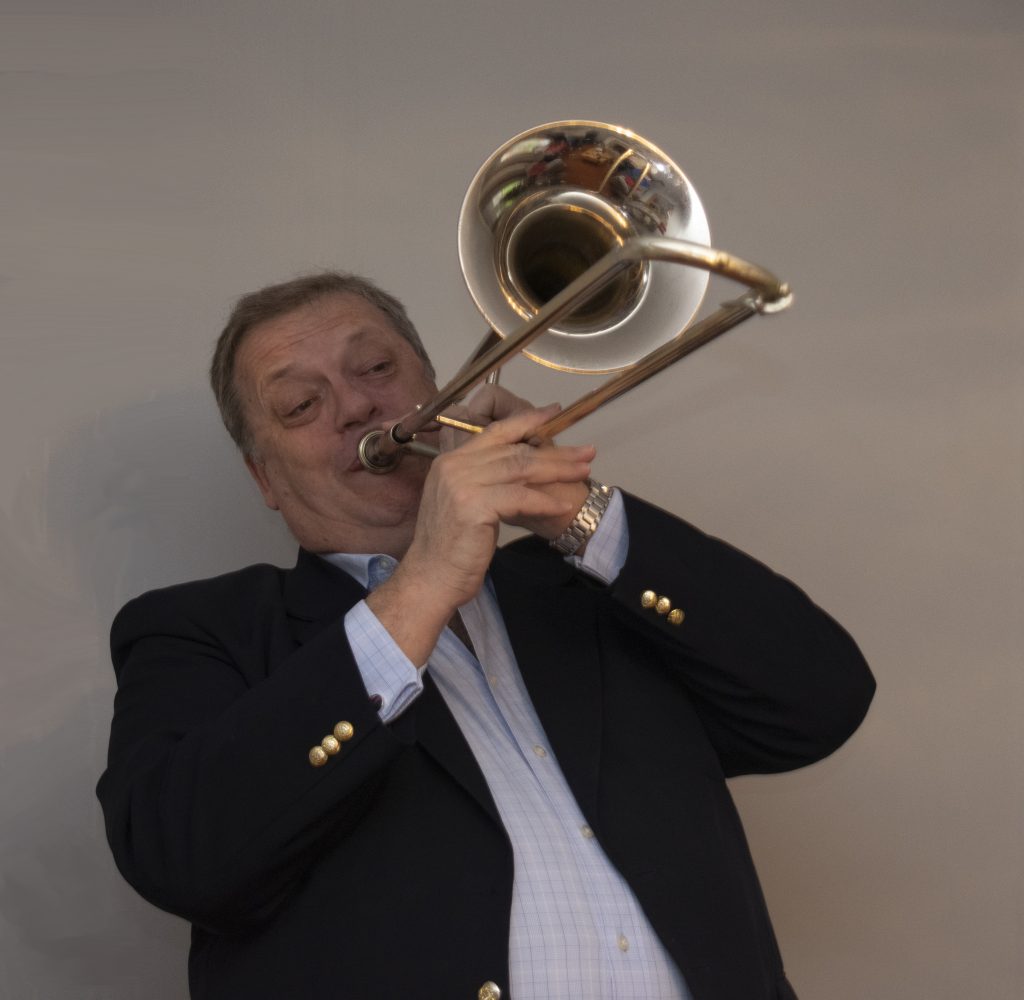 Ian has spent most of his career playing in the top jazz groups and big bands produced in the UK from the late 1970's to the present day. Ian has started to turn heads with his own shows that are gradually finding their way into the main stream of jazz in the UK.
His current top shows are The Bateman Brothers Jazz Band with their tribute to Louis Armstrong and his All-Stars, which attracts full houses wherever they play, including many Europe dates. Ocassionally, the band features trumpet maestro Enrico Tomasso in the Louis Armstrong role. Ian's new 'Ian Bateman Jazz Band' have also launched a very succesful tribute to Kenny Ball and his Jazzmen, entitled 'Kenny Ball's Greatest Hits'. This show is officially endorsed by the Ball family and is the talk of the British jazz scene at the moment. He has also created a new show called "It's Trad Dad", celebrating the traditional jazz boom of the early 1960s, which is playing to sell-out audiences all over the UK.
Ian's most ambitious project yet was a concert to bring Billie Holiday's classic "Lady In Satin" album to a live audience for the first time ever with full orchestra. The one and only China Moses sang this with Ian's full orchestra in the inaugral concert at St Georges, Bristol on 23rd March 2019. Songs from this album were also perform again by Claire Martin with the orchestra of the Jazz Reparatory Company at Cadogan Hall in London later that year.
Ian has two new orchestral jazz shows which will debut at the 2021 Bristol International Jazz Festival in a combined concert. The bossa nova sound gelled with jazz and orchestras in te 1960s when Frank Sinatra recorded with Antonio Carlos Jobim and Doris Day released her last recorded album, 'Latin For Lovers'. Both albums will be performed by Denny Ilett and Clare Teal with Ian's Orchestra. Again, in November 2021, these songs will be performed at Cadogan Hall. Check Ian's concert dates for more details.
There is also a Billie Holiday jazz show in the offing, along with another Louis Armstrong project, this time with strings and vocal harmony group – "Louis And The Angels". The recordings of Jack Teagarden are also to be featured in another project soon to be unleashed.
The band that Ian co-leads with Adrian Fry, 'The Bone Supremacy', is still going! Five trombones plus a piano trio and the incredible writing of Adrian Fry has already put this band into second place in the British Jazz Awards for 2009. The band has four regular trombonists plus a guest. Regular guests include Mark Nightingale and Alastair White.
Although best known in the traditional jazz world, the more informed jazz follower knows that Ian possesses a rare quality in jazz in that he excels at other styles and well as being a first-class reader. One of these styles is be-bop (very difficult on a slide trombone) and Ian has formed his Be-Bop Quintet to perform the music of JJ Johnson and Frank Rosolino from the late 1950's – early 1960's. Along with Ian, this band features SImon Spillett on Tenor Sax. The music has been transcribed from these recordings by Ian and it quite literally does swing like the proverbial clappers! Watch out for the new CD to be released in 2021.
Kick Ass Brass is a labour of love for Ian. He is a big fan of Tower Of Power, a soul/funk band from Oakland, California who are the inspiration for many bands of all types that feature brass sections in their bands. Where TOP are different is that the brass section is at the front with the singer and play the lead role. Ian is achieving this with Kick Ass Brass!
The Crusaders were a big influence on Ian in his youth and he has teamed up with Tom Hill's Funk Machine to launch 'Ian Bateman's Jazz Crusaders', a tribute to this amazing band and it's previous incarnation as 'The Jazz Crusaders'. This band has had an immediate positive reaction and will certainly be a feature of 2021.
You will also find Ian playing sometimes for The Jeff Hooper Big Band, The Magnificent Seven and Back To Bacharach amongst other bands/shows. And look out for The Electric Lady Big Band in 2021! So, you can see Ian is going to be busy for a while yet to come. Please have a look around the web site and get in touch if anything interests you!