About Ian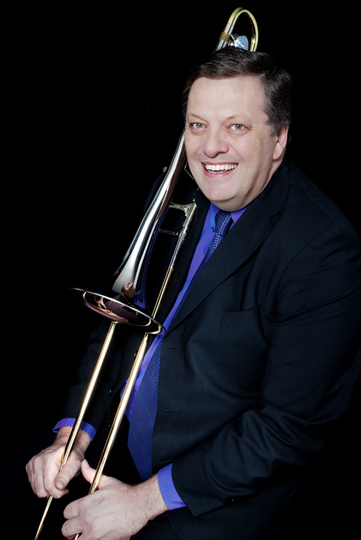 In January 2021, Ian celebrates 45 years as a professional musician. 2003 became a turning point in Ian's career when he joined Acker Bilk and his Paramount Jazz Band, putting Ian at the forefront of British jazz. A lot of water has passed under the bridge since them and Ian now finds himself presenting his own very successful jazz shows with various bands and even his own orchestra. We'll try to sum up the past 45 years…
Back in January 1977 Ian made his stage debut at his local theatre in Swindon, England (where he still lives) when he joined the National Youth Jazz Orchestra of Great Britain (NYJO). Ian went on to make numerous European tours with NYJO and played in nearly every theatre in the UK. It was NYJO's heyday during Ian's tenure – having performed in the 1977 Royal Command Performance for HRH the Queen Mother. This show was transmitted to the biggest worldwide live television audience ever at that time and no sooner had the curtains gone down, then NYJO were in massive demand and Ian was in there throughout.
During his time with NYJO, Ian played alongside current jazz stars such as Guy Barker, Jay Craig, Graham Ward, Dave Bishop, Chris Hunter and Jamie Talbot. He played with Phil Woods, Louis Bellson, Clark Terry, Slide Hampton and even Frankie Vaughan! NYJO played at many festivals around Europe and shared the stage many times with the great jazz stars such as Buddy Rich, Dizzy Gillespie, Ella Fitzgerald, Lionel Hampton, Joe Pass, Mike Brecker and so many others.
In a national orchestra full of the country's most talented young jazz musicians, Ian shone through as a featured jazz soloist. This was thanks to his pre-NYJO years when he played improvised jazz with local jazz groups in the West of England. After 3 years with NYJO, Ian was invited to join the Pete Allen Jazz Band. Pete's Band was knocking on the doors of the UK's top traditional bands such as Kenny Ball, Chris Barber, Terry Lightfoot and Acker Bilk – all Ian's boyhood heroes! Ian spent 8 years with Pete Allen making a name for himself in the UK and Europe and making many TV and Radio appearances.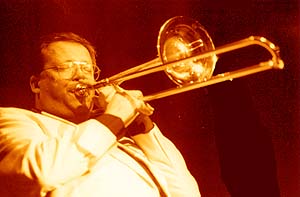 Ian then had a spell as a freelance jazz musician, when he turned to playing bebop and mainstream jazz. He performed with such notables as Al Grey, Art Themen, Don Weller, Gene Connors and Barbara Thompson amongst many others.
In 1992, he got the call from Rod Mason's Hot Five in Germany. Ian spent 2 years with Rod, playing classic hot jazz in the style of Louis Armstrong's famous group of the same name where he was called upon to emulate the great Kid Ory. Ian frequently made trips to appear with Rod's Band in Europe for a few years afterwards.
Ian was always a great fan of Trummy Young and after a brief spell with Pete Allen again, Ian was invited to join the Terry Lightfoot Jazz Band in 1995 where he was able to play in the Trummy style. At this time, Terry also engaged pianist Craig Milverton and Drummer Nick Millward from Pete's Band – now recognised along with Ian as a major part of the future of jazz in the Great Britain. All three are now great friends and often perform together in Ian's own bands.
Nick joined Kenny Ball and his Jazzmen in 1998 and three years later Ian was asked to join them for a 4 month period whilst Trombonist John Bennett took a sabbatical after over 40 years of constant touring! During his time with Kenny Ball, Ian established a couple of 'firsts' in his career. Not only did he perform at the Royal Festival Hall for the first time, but he also played in Berlin for the first time … then went there again 2 weeks later!!!
In October 2001 Ian was asked to be the featured soloist in a new Big Band called 'Back To Basie', a chair distinguished by the great Al Grey in the original Count Basie Orchestra. There is currently a very strong rise in the popularity of Big Bands in the UK and 'Back To Basie' are on the crest of this wave – assuring Ian of a very bright future in British Jazz.
In August 2003 Ian joined one of the top British Jazz Bands of all time, Acker Bilk and his Paramount Jazz Band. It doesn't get much better for a British jazz musician! This lasted up until Acker's retirement in June 2014.
Apart from his regular dates with The Bateman Brothers Jazz Band and Back To Basie, Ian can often seen and heard performing with The Pasadena Roof Orchestra, Tony Jacobs' Tuxedo Jazz Orchestra and Pete Long's Big Bands as well as his own Quartet. During one week in 2003, Ian set what must surely be a record – he performed in concert with 8 of the top bands!! During 2004, Ian added the Dutch Swing College Band to this illustrious list.
Recognition has also come from across the pond for Ian. He changed styles again and joined the Los Angeles based Leslie Paula Salsa band for a European tour in June 2004. They returned in December 2004 to play at the Pizza Express in London's Soho and some other major venues in the UK. In March 2005 new heights were reached when Leslie sold out Ronnie Scotts for a whole week, with Ian again called up. With all the talent available to them in Los Angeles – the heart of Latin Salsa, it was a great honour for Ian to be asked to play for them at Ronnie Scotts.
Another great highlight was a tour of Europe in 2013 with the great American drummer, Butch Miles, in a worldwide all-star lineup. Unforgettable and Ian and Butch remain great friends to this day.
Since Acker's passing, Ian turned his sights on promoting his own shows and bands. The Bateman Brothers Jazz Band was created with his brother Alan on trumpet to relive the live sound of Louis Armstrong and his All-Stars. Ian's goal was to reproduce the authenticity and excitement of the original band and it worked. The country went crazy for it and things took off once again for Ian. The band plays various Louis Armstrong themed shows, sometimes with Alan and other times with Enrico Tomasso on trumpet.
In 2018, Ian took up the reins of the Kenny Ball & His Jazzmen with a new show called 'Kenny Ball's Greatest Hits'. Another instant success that has the honour of the blessing of the Kenny Ball family to call it the official tribute to perhaps the UK's greatest jazz trumpet player. Following on from this, a new show for 2020 called 'It's Trad Dad' has also made an instant impact. Many fantastic concerts were lined up before the coronavirus epidemic put paid to them, but they will return!
Ian's most notable career move though, has been his decision to turn to writing for jazz orchestra, usually comprising strings, a rhythm section and various featured instruments. It started with his desire to recreate Billie Holiday's famous 'Lady In Satin' album, which had never been performed live before. In March 2019 this dream turned into reality at the Bristol International Jazz Festival when Ian's orchestra performed the entire album with China Moses. Ian's next project to recreate albums by Frank Sinatra & Antonio Carlos Jobim, and Doris Day's 'Latin For Lovers' LP were cruelly abandoned 2 weeks before the concert when coronavirus struck, but hopefully the re-scheduled concert will be going ahead on 6th August 2021.
Ian has performed professional engagements with the following (please excuse the sublime to the ridiculous !!)):
| | | | |
| --- | --- | --- | --- |
| Clark Terry | Jamie Cullum | Acker Bilk | Nat Gonella |
| Jackie Dankworth | Clare Martin | Rossano Sportiello | Kenny Ball |
| Bryan Ferry | Ray Gelato | Humphrey Lyttelton | Butch Miles |
| Terry Lightfoot | China Moses | Chris Barber | Rod Mason |
| Iain MacKenzie | Dan Barrett | Randy Sandke | Jake Hanna |
| George Masso | Roy Williams | Dave Green | Craig Milverton |
| Bob Monkhouse | Victoria Wood | Ken Peplowski | Digby Fairweather |
| Richard Shelton | Pete Allen | Enrico Tomasso | Jimmy Tarbuck |
| Pete Long | Scott Robinson | Guy Barker | Alec Dankworth |
| Scott Hamilton | Alan Barnes | Bruce Adams | Andy Cooper |
| Pascal Michaux | Johnny Barnes | Mike Cotton | Allan Ganley |
| Chris Flory | Karen Sharp | Vic Damone | Tommy Burton |
| Beryl Bryden | Neville Dickie | Incognito | Bucky Pizzarelli |
| Frankie Vaughn | Bernie Clifton | Tom O'Connor | Duke Heitger |
| Sir John Dankworth | Tina May | Jacqui Hicks | Tony Coe |
| Paul Lacey | Andy Dickens | Denny Ilett | Antti Sarpilla |
| Fred Wesley | Mark Shane | Henning Gailing | Bryan Ferry |
| Bobby Shew | Pee Wee Ellis | Mark Nightingale | Dutch Swing College Band |
| Tricia Boutte | Sebastien Girardot | Julie Saury | Adrian Cox |
| Dave Newton | Dave Green | Bruce Adams | Simon Spillett |
| Leslie Paula | Mrs Mills (only joking…) | | |