Tribute to Louis Armstrong & His All-Stars
The Bateman Brothers Jazz Band has gained a worldwide reputation for its faithful recreation of the music of Louis Armstrong and his All-Stars. The critics struggle to tell the two bands apart and Alan Bateman's trumpet playing is as close to the sound of Louis Armstrong in the golden years of the 1940's – 1960's as you will ever hear nowadays. If that is not enough, his brother Ian Bateman possess the ability to recreate the sound of Louis' most famous trombonists – Trummy Young and Jack Teagarden.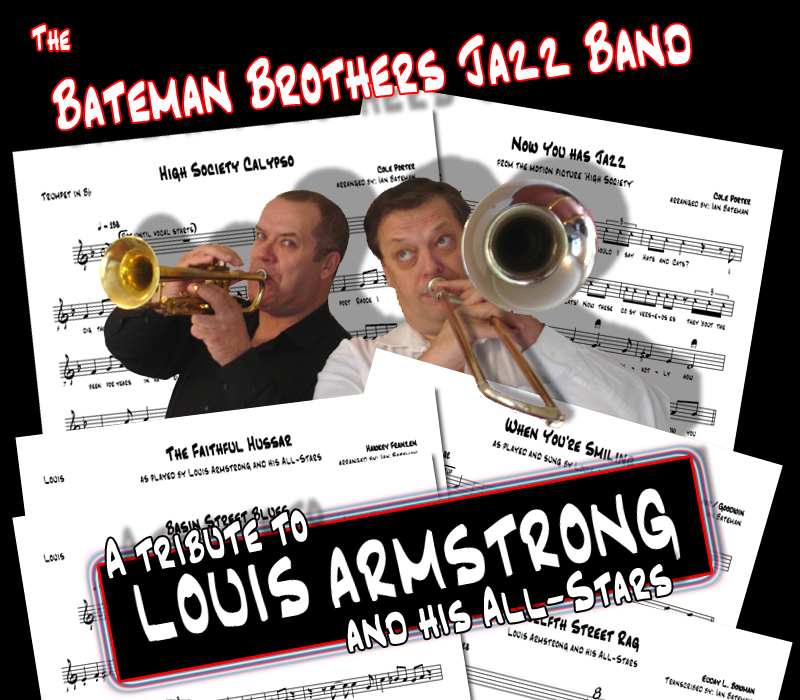 The older members of their audiences often remark on how the band takes them back to their youth and congratulate them for putting the vitality back into this form of jazz music. That is because they play the tunes the way Louis and the All-Stars played them – full of energy, the same carefully planned arrangements and an all too obvious genuine love of the music. These are the current stars of the British jazz scene (all ex-members of the bands of Chris Barber, Kenny Ball, Acker Bilk and Terry Lightfoot), all in one band and if you go to see them in one of their three different shows, they'll have you on the edge of your seat shouting for more. That's how it was with Louis Armstrong and his All-Stars and that is how it is with The Bateman Brothers Jazz Band.
Their first recording won the best CD category in the 2011 British Jazz Awards and prompted this response from reviewer Ralph Laing: "In my experience no band in the world has ever attempted to emulate the unique sound of Louis Armstrong and his All-Stars before. In this they succeed, and deserve our admiration and envy for so doing…". If you are a jazz enthusiast or just love Louis Armstrong, please wander around our web site and take it all in! if you are interested in booking the band, then give Ian a call on 07711 009295 or send him an e-mail to ian@ianbateman.com and they will do their utmost to accommodate you.