Back To Basie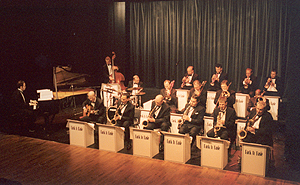 Back to Basie is Great Britain's Count Basie tribute orchestra. Directed by trumpet player Paul Lacey, the Back to Basie Orchestra features top London session musicians and jazz soloists all dedicated to playing the music of Count Basie's second great orchestra of the 1950s and 1960s. The band captures the sound and spirit of the legendary 'Swingin' Machine'.
Launched in 2001, Back to Basie have since been presenting Count Basie tribute concerts throughout Britain and Europe to universal acclaim. The Orchestra presents it usual show on the concert circuit with their fantastic award winning singer, Jacqui Hicks.
Look out for some very special concerts in 2021!